Former World No. 1 Iga Swiatek recently expressed her sadness over the passing of Matthew Perry, 54, best known for his role as Chandler Bing on the famous sitcom 'F.R.I.E.N.D.S.'
The renowned actor was found dead at his home in Los Angeles on October 28. According to TMZ, Perry was found in a jacuzzi inside the house, and no drugs were discovered at the scene. The untimely passing of the star has left fans both shocked and deeply saddened.
Iga Swiatek has now joined others in paying tribute to Matthew Perry. During a press conference at the ongoing WTA Finals, the Pole shared that watching the American's show, 'F.R.I.E.N.D.S', helped her overcome loneliness in her teenage years. She also sent her best wishes to his family and friends.
"Well, obviously, we never met, so I don't know him in person, you know. But I read his book last year, and I have been watching F.R.I.E.N.D.S and you know this TV show was kinda I think that kept me, I don't know, not lonely in my teenage years, you know. So I really have a lot of sympathy for the work that he has done," she said.
"His life was kinda tough, and it wasn't easy and obviously it's really really sad that he passed away. He was really kind of loved by everybody and his fans, so I don't know what to say honestly. I never had a question like that on press. I was, like from my perspective, I was just really sad when it happened and I hope his family and his friends and people that he works with are going to have some peace to like just go through everything peacefully, " she added.
Swiatek is having a great time at the WTA Finals this year. The 22-year-old won her first two group-stage matches, defeating Marketa Vondrousova and Coco Gauff. She next faces Tunisian Ons Jabeur in the third and final match of the Chetumal group.
Iga Swiatek claimed Matthew Perry distracted her during US Open 2022 final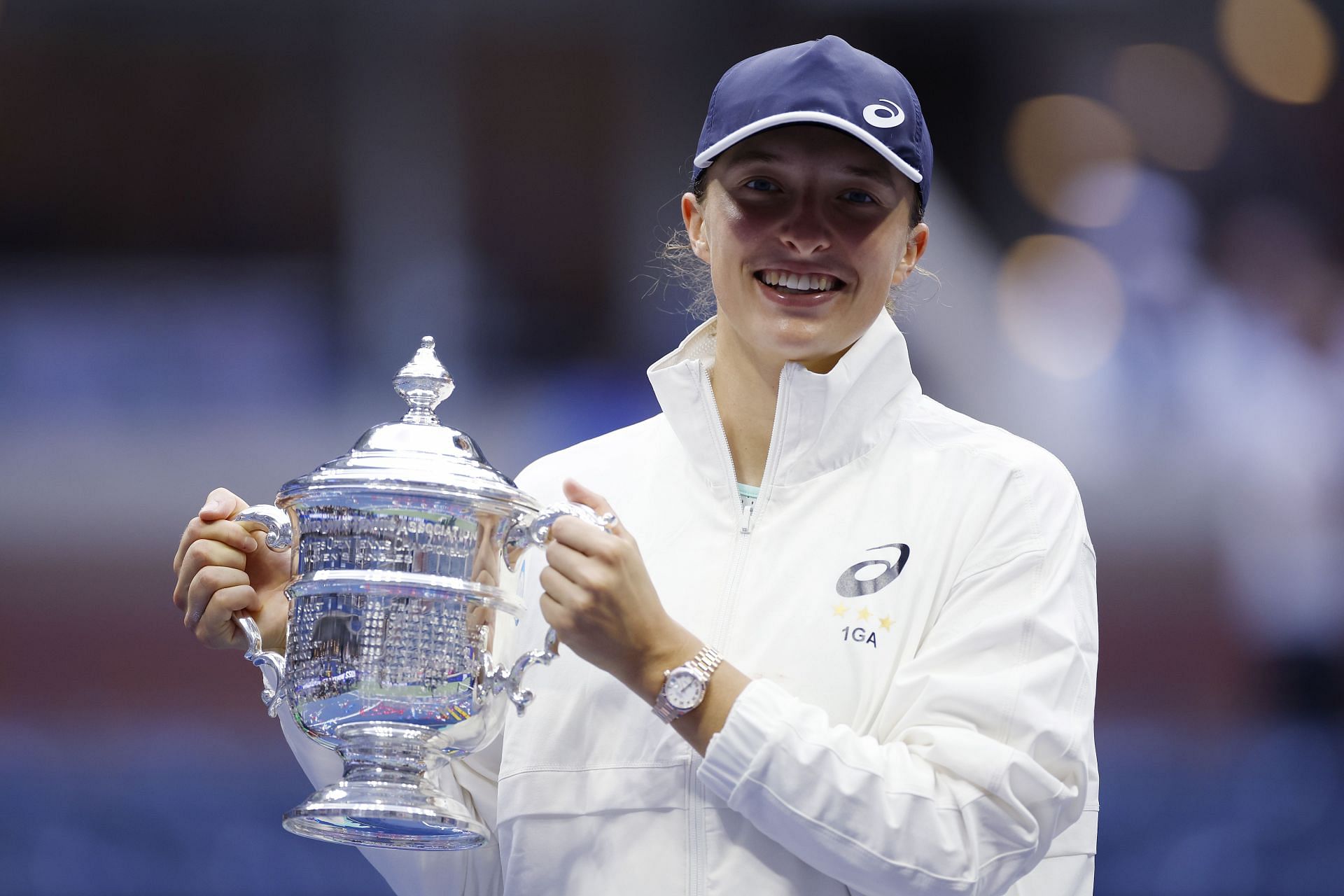 Iga Swiatek won her first US Open title in 2022, defeating Ons Jabeur 6-2, 7-6(5) in the final at Flushing Meadows. The Pole had a special guest cheering her on the entire time in the form of Matthew Perry.
https://x.com/usopen/status/1568701292851363841?s=20
Following the match, the four-time Grand Slam champion took to X (formerly Twitter) to share how she couldn't concentrate as she spotted Perry on the screen in the audience.
"Me when I really wanted to be focused but I saw @MatthewPerry on the screen during the changeover. Could this BE any more exciting?" Iga Swiatek wrote.
https://x.com/iga_swiatek/status/1568787171313688582?s=20