The tale of the father-son duo is famous on the PGA Tour. Tiger Woods and Charlie Woods are in a league of their own. There is indeed no comparison of the pair with anyone, and we are not trying to make one.
However, there is one such pair on the LIV Golf circuit as well. Just like Woods caddying for his son for different tournaments, golfer Marc Leishman has recently been spotted doing the same for his son Harvey Leishman.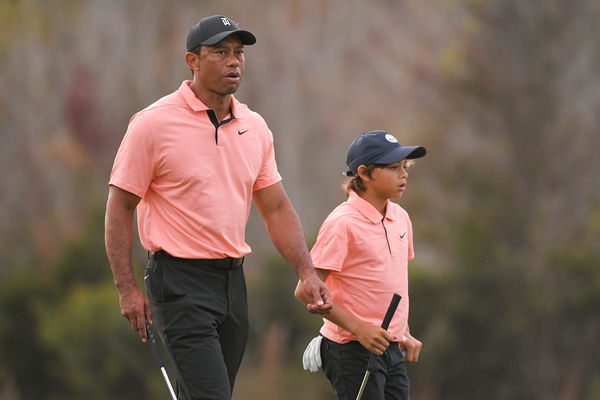 Marc Leishman accompanies son to a win
Marc Leishman plays in LIV Golf. Moreover, he is part of Cameron Smith's Australian squad, the Ripper GC. The Aussie has two sons and one daughter. He had always been vocal about his elder son having a similar passion for golf as him.
In one of his interviews, Leishman shared the joy of teaching his son golf and how it has helped him as well. The LIV golfer remarked that teaching Harvey golf has "simplified things" for him and fueled his love for the game more.
Last week, Harvey got assistance from his dad on a real game. Sr. Leishman worked as a caddy for Harvey and that led to his victory. This was at an undisclosed event. But Ripper GC was sure to share the memorable moment with the world.
https://x.com/rippergc_/status/1723990789003309419?s=20
The 10-year-old Harvey is following the path of his father and Marc couldn't be prouder that his son has tasted his first victory. Calling them Tiger and Charlie Woods of LIV Golf would not be wrong. On the topic of Charlie, what is he up to lately?
Charlie Woods at the Junior Championship
Charlie Woods had his father on the bag for the Notah Begay III Boys Golf National Championship in Koasati Pines at Coushatta. Charlie won the last event in the month of September 2023 in Orlando. Jr. Woods was playing in the 14-15 age group and was contesting to win. He shot a bogey free last round. However, he finished tied at 17 and could not repeat the feat.
One thing that came out of Tiger Woods becoming a bag man for his son is that people started hoping again for his most awaited comeback post his surgery. Woods was seen walking all around the 18 holes without any struggles. The duo might be seen at the year end PNC Championship 2023, though nothing is confirmed yet.