Claressa Shields has always been known to send a message through her outfits, especially when it matters the most. In a 2021 fight against Marie Eve Dicaire, she paid tributes to three people through her ring walkout outfit. She paid homage to the late Los Angeles Lakers legend Kobe Bryant and his daughter Gianna Bryant. Moreover, Shields also paid her respect to Chadwick Boseman, as all three of them left the Earth that year.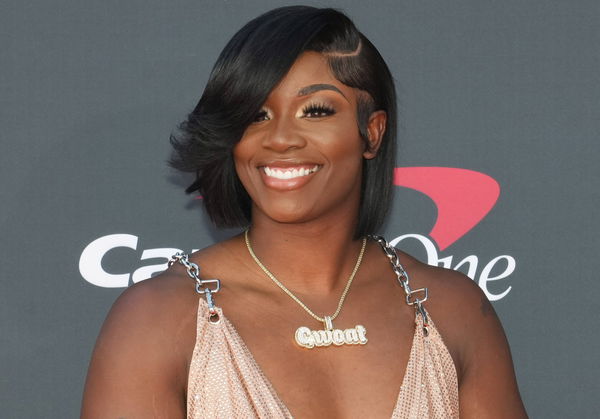 Later, in the biggest fight of her career, Shields donned the outfit of the famous character in 'Rocky' series, Apollo Creed. Thus, signifying the mindset of never giving up, as Creed chose to die for the love of boxing. That's what Shields wanted to tell the world through her outfit when she walked towards her bout against Savannah Marshall. Similarly, Shields again surprised the fans with her amazing Halloween costume.
Claressa Shields amazes fans with her Foxy Brown costume
On her Instagram, Claressa Shields posted the outfit that she's chosen for this Halloween. She dressed up as the famous fictional female character Foxy Brown, who was played by Pam Grier in the 1974 movie of the same name. Shields even posed with a gun, and did a whole walkout to signify her presence as strongly as Brown. The fans went wild in the comments section.
One of the fans commended the hair wig of Claressa Shields. They wrote, "You rocking the f**k outta that fro."
Another fan recognized her outfit and addressed her as Foxy Brown. They wrote, "Go ahead Foxy Brown."
One fan joked about how Shields is looking great, but she really should put the gun down. They wrote, "Looking Great Put that Gun down champ."
A fan stated that the undisputed champion did justice to the look in all manner. They wrote, "You slayed that look."
An Instagram user mentioned that she knows how to fight and look good at the same time. They wrote, "Wow fine, and can fight you killing that outfit."
The fans had only positive things to say about her outfit and they really admired her dedication to the cause.
Young girl imitates Shields in search of glory
Claressa Shields doesn't have a daughter, but she has a niece. Her cousin wanted to abort her child, so Shields offered to take custody of the child and named her Klaressa. Although, after eight months, her cousin had a change of mind, and she asked for her daughter back. But, Shields still has a strong bond with her niece and tries to provide for her whenever she gets the chance. But she has a special bond with kids, and for that reason, she makes sure to leave a positive impact on the younger generation.
https://x.com/Claressashields/status/1719124609738440942?s=20
And it turns out she has been successful in that regard. In a recent X post, she revealed how a young girl dressed up as her this Halloween. The kid donned the PFL outfit of 'GWOAT', thus signifying her interest in MMA more than boxing. In the caption, Shields wrote, "Baby girl was me for Halloween 🎃 gonna keep setting the bar high! That's it! That's all!"