Tiger Woods says he has "zero issues" with his surgically repaired right ankle but other injury problems remain.
The 47-year-old American has not competed since injury forced him to withdraw from the Masters third round in April.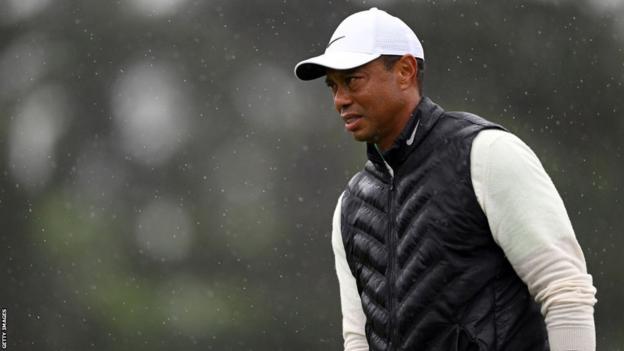 Woods, a 15-time major winner, then had fusion surgery on a bone in his ankle to address post-traumatic arthritis from a previous fracture in the joint.
"That pain is completely gone," Woods told the Associated Press.
"My ankle is fine. Where they fused my ankle, I have absolutely zero issue whatsoever.
"But all the surrounding areas are where I had all my problems and I still do. So you fix one, others have to become more hypermobile to get around it, and it can lead to some issues."
Woods was seen caddying for his son Charlie at the Notah Begay III Junior Golf National Championship earlier this month.
"I'm pretty sore after caddying for four days," Woods said. "It was a flat course, thank God."
In recent years, Woods has also played with his son in the PNC Championship, an exhibition tournament in which major champions play alongside their children or parents.
The next tournament will take place between 14 and 17 December and Woods would be able to use a cart instead of walking the course if he decides to play in the event.
In October, Woods and fellow golfer Rory McIlroy launched an indoor "high-tech league" and the American announced on Tuesday he will co-own one of the league's teams – Jupiter Links Golf Club – and will play for them when it begins in January 2024.