Women's boxing legend Mia St. John has lived a truly extraordinary life, in and outside the ring. The five-time world champion has fought against numerous opponents, working with legendary promoters such as Don King and Bob Arum. So, it's safe to say that she has the right knowledge and skills to analyze a fight between two of the best female fighters in the world. Who are the boxers? Laila Ali and Claressa Shields! Back in 2020, there were even talks of the two fighting each other, but it quickly fell apart.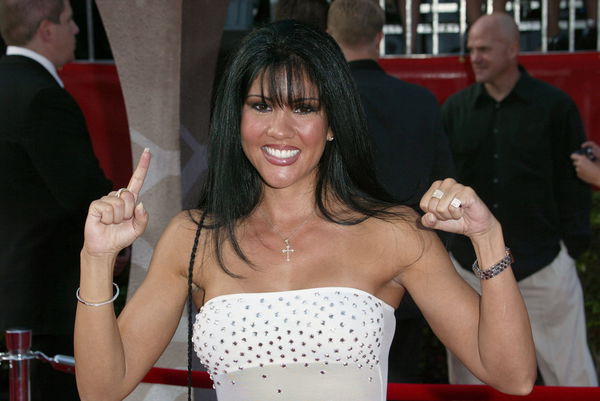 While appearing in a fancast interview with Noah Lack for EssentiallySports, the 'Knockout' gave her take on a hypothetical fight between Claressa Shields and Laila Ali. Both fighters are well-known and highly respected in their respective generations. While Claressa Shields is regarded as the best female boxer of the modern-day, Laila Ali is an undefeated boxer who is a four-time boxing world champion. So, Noah asked Mia about her take on the hypothetical fight. A hesitant and doubtful Mia crowned Shields as the winner because of this one reason.
Mia St. John claims fighters of today are different from her generation
While appearing in an exclusive interview with ES fancast, Mia thought deeply about the proposed question and seemed doubtful about predicting a winner at first. She remarked to Noah Lack, "Oh, that's so hard to say, you know. Laila is a bit bigger than Claressa, not by much, but she is. It's really hard to say, you know." To explain her answer, Mia first justified her answer by suggesting fighters in her time are different from boxers of today. "The sport has evolved, and the female fighters today are not the female fighters of my time," Mia said.
Mia went on to suggest that there was a massive gap between the skills of fighters today and boxers back in her day. "We were very green, and our skills were nowhere near what the girls are showing today," Mia told Noah.
However, Mia eventually picked Claressa Shields as the winner because of the evolution of the sport and the superior technical skills possessed by today's fighters. As she said, "I have to say Claressa Shields based on the fact that the sports has evolved and women are far more technical."
The feud between Claressa Shields and Laila Ali
Claressa Shields is undeniably one of the greatest female boxers today, and back in 2020, she wanted to fight one of the best from the past. Claressa wanted Laila Ali to come out of retirement for an exhibition fight. Interestingly, Laila even agreed to fight Shields but demanded $5 million for the fight.
So, in response, Claressa made some harsh comments towards the former female boxer. Claressa asserted Laila never loved the sport, rather just pretended she did for the cameras. "She can get on camera and say boxing is her first love all she wants to. It's a myth," Claressa told Boxing Scene. Shields went as far as to say that Laila prefers cooking over boxing, and she should stick to doing that. "Boxing is not her first love. Cooking is…she should stick to doing," retorted Shields.
While naming Claressa as the winner in a hypothetical fight between Shields and Laila, Mai cites the above-mentioned fact as the only reason. However, the burning question is–do you agree with Mia's pick for the winner? Let us know your opinions about our full fancast interview with Mia St. John.