Iga Swiatek, Coco Gauff, Maria Sakkari and their fellow 2023 WTA Finals contenders playfully revealed their ideal companions for the pre-tournament gala in Cancun, Mexico.
On Friday, October 27, the top eight WTA players of the season – Aryna Sabalenka, Swiatek, Gauff, Elena Rybakina, Jessica Pegula, Marketa Vondrousova and Sakkari – graced the red carpet at the draw ceremony gala for the year-end championships.
After posing for photographs, the players were asked to share their dream plus-ones for the event. Pegula started things by selecting popstar Dua Lipa as her ideal partner.
"Who would I walk the red carpet with? I'm a big Dua Lipa fan so that would be really fun," she said.
Sakkari, meanwhile, chose British actor Henry Cavill, hilariously hoping that her boyfriend wouldn't be offended by her choice.
"I hope my boyfriend doesn't get pissed but he knows Henry Cavill would be my go-to," she said.
Gauff and Jabeur promptly stated their preference for Zendaya and Jessica Alba, respectively.
"Zendaya. Ooh actually I don't know, she looks so good she might make me look terrible. No Zendaya, I mean if I look bad, she'll look good for the both of us," Coco Gauff revealed.
"I would choose Jessica Alba," Jabeur shared.
Rybakina and Vondrousova, on the other hand, expressed satisfaction with their current companions and did not choose a dream plus-one.
"I mean I have everyone I need here with me so it's pretty special," Vondrousova said.
"I'm happy to be hear with my sister so for now it's her," Rybakina stated.
Sabalenka, who recently spent time with David Beckham in Miami, chose the football legend as her ideal partner.
"Well why not, David Beckham," she said.
Iga Swiatek, meanwhile, carefully considered her answer, picking Taylor Swift and Coldplay's Chris Martin from the music industry, while Julia Roberts and Harrison Ford won out among the actors.
"I mean, it's hard to choose but obviously for music industry, Taylor Swift or Chris Martin. From actors, I would say, I would love to meet Julia Roberts and maybe Harrison Ford," she said.
Iga Swiatek and Coco Gauff drawn in same group for WTA Finals 2023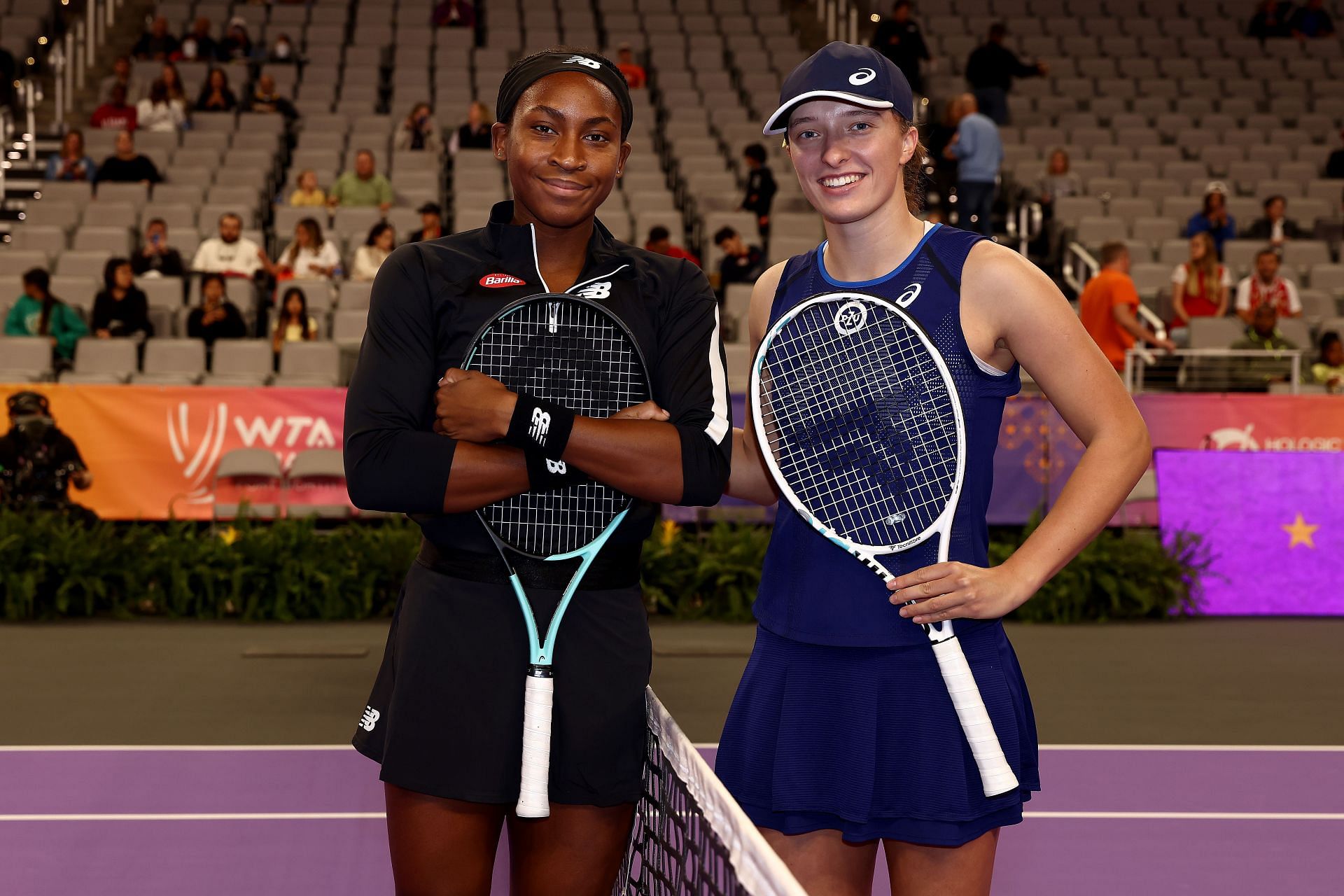 Top seed Aryna Sabalenka leads the Bacalar group at the 2023 WTA Finals. The World No. 1's group includes Elena Rybakina, Jessica Pegula and Maria Sakkari. Meanwhile, second seed Iga Swiatek heads the Chetumal group, which features Coco Gauff, Ons Jabeur and Marketa Vondrosova.
Gauff and Swiatek locked horns in last year's edition of the WTA Finals as well. The four-time Grand Slam champion claimed a commanding 6-3, 6-0 victory over the American in the group stage.
The Pole enjoys a dominant 8-1 head-to-head record against the 18-year-old, having won their most recent encounter in the 2023 China Open semifinals in straight sets.
However, Coco Gauff claimed her first-ever win over the four-time Grand Slam champion this season, defeating Swiatek 7-6(2), 3-6, 6-4 en route to her maiden WTA 1000 title at the Cincinnati Open.