Almost every single of Tyson Fury's opponents in recent yearshave underestimated him, none did so more than Deontay Wilder. Francis Ngannou is making sure he doesn't fall for the same tricks as he knows how Fury uses his deceiving physique to trick every rival. At first glance, Tyson Fury looks like an out-of-shape massive man who doesn't know the first thing about this sport. But inside the ring, we are definitely talking about the most skilled boxer since Muhammad Ali. That has already been proven several times and the first time these two made a face-to-face, was the first time Ngannou saw how Tyson tried to trick him. But that is not going to work with Ngannou.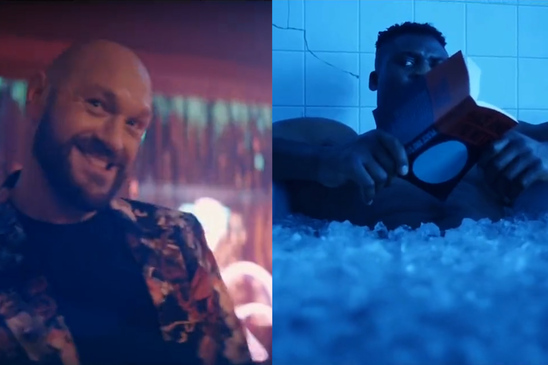 Innovative video promotes Fury vs. Ngannou fight with excitement and fun
In a recent video with Top Rank Boxing, Francis Ngannou talked about Tysonf Fury's weaknesses. He said: "He has a lot of downsides, he's really good at distracting people because when you look at him he really doesn't look like the guy. He must be playing a mind game to be saying 'oh look at me, look at my stomach, I'm a fat pig'. "No you are not, I have seen him, I have been ringside watching him and I'm like 'how can this be possible?' But you're watching it… When I think about something, I go after that thing, I don't care what it is that will come in my way. I put all my focus on that thing, not the obstacles, and I move forward. I know that even if I fail I will learn from it, the most important thing for my is to identify what I want, focus on it and put everything behind that decision."
https://x.com/trboxing/status/1716889020498837509?s=20
Tyson Fury slims down for fight week against Ngannou
The people in Riyadh are ready, both Tyson Fury and Francis Ngannou showed up for a media event on Tuesday. As part of the event, the 'Gypsy King' showed up first for the photos and speaing to the media. Wearing some colorful pants and a red vest, it is very clear Tyson Fury took his training camp extremely seriously. He showed up with a massive weight loss compared to the last time we saw him in one of these events. This Tyson Fury is more in line with the Heavyweight champion who defeated Deontay Wilder three times. Ngannou showed up wearing shades at night, he is looking like the muscular specimen he's always been. We are only days away from a historic evening in Riyadh.
https://x.com/trboxing/status/1716882320937136498?s=20