Everyone knows that Tom Cruise is an actor who doesn't mind risking his life in every movie and that he doesn't usually need stuntmen to film his most dangerous and risky stunts.
He is an adrenaline junkie and thrill-seeker, as seen in a behind-the-scenes clip from 'Mission Impossible 7'.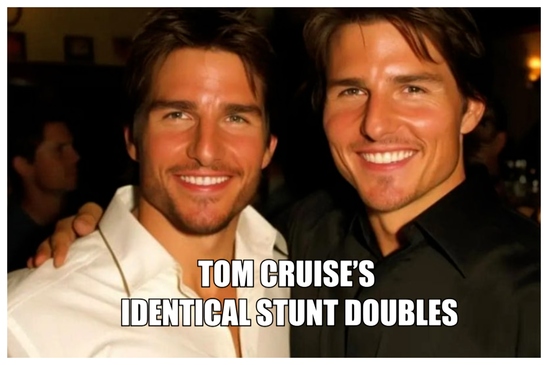 Tom Cruise's stunt doubles are literally identical to him
In the footage, the actor is seen jumping off a cliff on a motorbike, a stunt he repeated several times until he was happy.
Despite having performed all kinds of action scenes, Tom Cruise has his limits and there was one scene on the set of 'Mission Impossible 7' that he refused to shoot.
The scene Tom Cruise asked for a stunt double for
It has been revealed that Tom Cruise refused to kick a female actor in the stomach in 'Mission Impossible 7'.
One of the actors in the latest film in the series, Pom Klementieff, was interviewed by Entertainment Weekly and explained that Cruise's character was supposed to kick Pom in the stomach in a fight scene in Venice.
The French star asked the American to not hold back on the kick to make the scene look better, but the 60-year-old refused.
"I kept telling him to just kick me," Pom Klementieff explained.
"I was squeezing abs and said 'You can just go for it', but he was like 'No, no, no, no, no'.
"I was like 'It's going to help me', but he wouldn't do it."
Pom plays Paris in 'Mission Impossible 7', a character who she described as "a rebel, she's a killer, she's extremely skilled and quite lonely too".