The May 29 edition of Monday Night Raw focused on throwing some limelight onto the brand-new World Heavy Champion, Seth Rollins. He kicked off this week's Monday show and a little later AJ Styles joined him. The two stars exchanged words of respect for each other, but soon The Judgement Day interrupted them.
Fast forward to the closing segment of the night, 'The Visionary' teamed up with 'The Phenomenal One' against Finn Balor and Dominik Mysterio. During the match, Rollins and Rhea Ripley recreated an iconic Shawn Michaels moment, which is going viral all over social media.
Rhea Ripley mistakes Seth Rollins for Dominik Mysterio
A segment in the match saw the new World Heavyweight Champion slip out of the ring and put his hands over Mami's shoulder, who thought it was her Dom-Dom. As she turned her head to the right, she saw it was not who she thought and had a hilariously shocking reaction.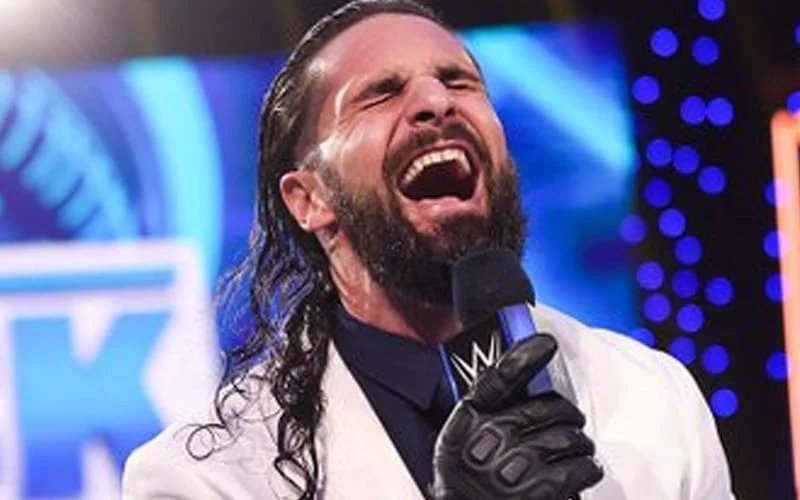 A similar thing happened at Survivor Series 2006. During a match, HBK exited the ring to strike a pose with Melina, who mistook him for Johnny Nitro. The team of Shawn Michaels, Triple H, CM Punk, Matt Hardy, and Jeff Hardy defeated the team of Edge, Randy Orton, Mike Knox, Jonny Nitro, and Gregory Helms.
This is gold #WWERaw pic.twitter.com/ZvQCCaakm2

— Roman Reigns SZN 💥 (@reigns_era) May 30, 2023
After seeing the segment, fans were quick to react to it online.
The WWE Universe found the segment hilarious
Rollins and Ripley recreated the iconic funny segment from almost 17 years ago. And it surely made the WWE Universe break out into waves of laughter. Here are some of the top comments from the fans.
Her on screen "romances" is the best recurring storyline 😂

— Matt Johnson (@VivaMattyVegas) May 30, 2023
That was so funny.

— Susan (@SusanfromMI) May 30, 2023
Lmao this was funny

— Tim (@dndtim24) May 30, 2023
We know who did it first 😉 pic.twitter.com/8Hg5WGkpxc

— Desz@400 (@Deszzmo) May 30, 2023
this had me laughing so hard

— autumn \(^O^)/ (@breakerofwinds) May 30, 2023
The fans hilariously mentioned Becky Lynch (Rollins' wife) will not be in a good mood after watching this segment.
Becky finna be PISSED

— Wwe_Fan (@Quandal17296949) May 30, 2023
Seth is definitely sleeping on the couch

— Michael Harris Jr (@Michael66530088) May 30, 2023
Becky watching

— quadriplegic wrestling MCU Fan 96🇲🇽 (@wrestlefer34296) May 30, 2023
Similarly, fans mentioned on how The Eradicator's real-life boyfriend, Buddy Mathews, might react to the segment between her and Rollins.
Lol, Buddy's former Messiah stole her girl!

— theprettyboi30000 (@Jokpot30002) May 30, 2023
Don't get Buddy Matthews started

— Marcus (@mfent29) May 30, 2023
And somewhere Buddy Matthews is probably asking what the hell is going on not realizing this is all a storyline

— robert kostman (@Bobbysworld74) May 30, 2023
Buddy tired of Rhea's shenanigans: pic.twitter.com/wBahPWTUab

— Tyrese (@LightskinSaiyan) May 30, 2023
The WWE Universe enjoyed two stars paying tribute to 'The Heartbreak Kid' in a unique and funny fashion.
Reminded me of this gem😂😂 pic.twitter.com/k2sLS7pwMj

— Ahmed Yusuf (@ahmedyusuf6291) May 30, 2023
Flashback to Survivor Series when HBK did the same thing with Melina

— Thomas Hahn (@Thahn531) May 30, 2023
Seth Rollins pulling a Shawn Michaels 😂

— Aaryan Saheb (SPAWN AND POPEYE FOR MULTIVERSUS) (@AaryanSaheb2) May 30, 2023
The team of the new champ and the man he beat for the brand new title at Night of Champions came out as victors after defeating The Judgment Day on this week's RAW main event match.
What was your reaction when you saw Rollins and Ripley paying tribute to Michaela in the hilarious segment? Did you find it funny? Share your thoughts in the comment box below. We would love to hear from you.