Serena Williams revealed the news of her second pregnancy to the world at this year's Met Gala—but hours before, she dropped the news to her daughter in the sweetest way.
Williams documented the intimate moment on camera and released a video of it on YouTube yesterday, kicking off her channel.
"I just took this test today and I'm super happy. I'm just praying it keeps working," Williams says at the start of the clip while displaying a positive pregnancy test.
She is then seen getting ready to share the news with daughter Alexis Olympia Ohanian, 5, with husband Alexis Ohanian by her side.
"Olympia does not know right now that I am pregnant, but she did call me fat and then she got really, like, stressed out. She was like, 'Mommy, you're fat,'" Williams hilariously reveals. "I tried not to take it personal, 'cause I'm like, super into fitness."
Gearing up for the big moment, Williams says she's "really excited to see [her daughter's] reaction."
The screen then flashes to Williams and Ohanian sitting on their couch with Olympia between them. "Remember how you've been praying for a little sister or brother?" the tennis star asks. "Well, we went to the doctor, and it turns out I'm not getting fat, but I have a baby in my belly."
At that, Olympia looks at her mom with a big smile, and asks, "Are you kidding me?"
"No," Williams says, laughing. "You're gonna be a big sister," both Williams and Ohanian say.
Olympia then screams with excitement and jumps up to hug her mom. "Oh my god, I'm so excited," she says repeatedly, before racing around the room with joy.
Smiling, Williams shows off her baby bump, which only makes her daughter more excited.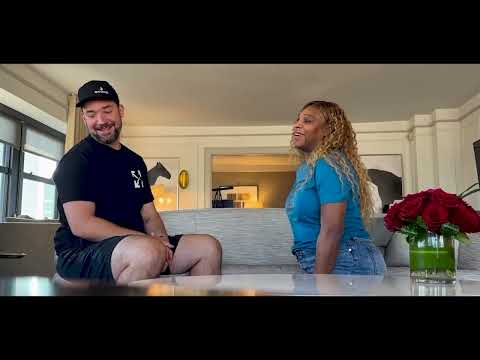 The video then cuts to Williams getting ready for the 2023 Met Gala. "I am revealing to the world that I am pregnant. I am expecting my second child, which is exciting," she says.
Williams showed off her growing baby bump on the Metropolitan Museum of Art's steps on May 1, looking fabulous in a black-and-white custom Gucci ensemble. She accessorized the dramatic piece with layers of white pearl necklaces, a pearl headband by Lelet NY, and diamond stud earrings from Tiffany & Co., as well as her diamond engagement ring and wedding band.
Williams's big pregnancy news comes after she announced last year that she would be retiring from playing professional tennis to focus on and grow her family.
In an emotional essay at the time, she wrote: "I have never liked the word retirement. It doesn't feel like a modern word to me. I've been thinking of this as a transition, but I want to be sensitive about how I use that word, which means something very specific and important to a community of people. Maybe the best word to describe what I'm up to is evolution."
She added, "I'm here to tell you that I'm evolving away from tennis, toward other things that are important to me. A few years ago I quietly started Serena Ventures, a venture capital firm. Soon after that, I started a family. I want to grow that family."