The NBA has been handing out its regular-season awards for the past several weeks, and on Wednesday, it concluded with one of the most important of them all. The league announced its three All-NBA teams Wednesday evening, and while some of the names were obvious selections, others needed to win tight races in order to sneak onto the final rosters. Unsurprisingly, MVP Joel Embiid led the First Team at center.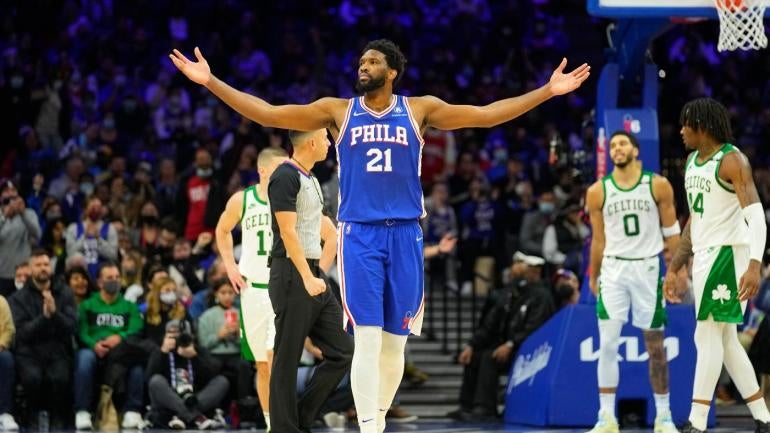 First Team
Guard                  Luka Doncic                              Dallas Mavericks
Guard                  Shai Gilgeous-Alexander          Oklahoma City Thunder
Forward               Jayson Tatum                            Boston Celtics
Forward               Giannis Antetokounmpo          Milwaukee Bucks
Center                  Joel Embiid                               Philadelphia 76ers
This is the first First Team selection for Embiid at center, though he earned four Second Team picks over the course of the past five seasons. Shai Gilgeous-Alexander was the lone first-time All-NBA selection within the group, as Jayson Tatum, Luka Doncic and Giannis Antetokounmpo had all been chosen in previous years. Just as Embiid's placement on the first team will surprise no one, MVP runner-up Nikola Jokic led the Second Team.
Second Team
Guard                Donovan Mitchell                    Cleveland Cavaliers
Guard                Stephen Curry                          Golden State Warriors
Forward             Jimmy Butler                            Miami Heat
Forward             Jaylen Brown                           Boston Celtics
Center                Nikola Jokic                            Denver Nuggets
Jokic had been chosen as the First Team center in each of his two MVP seasons as well as the 2018-19 campaign. Stephen Curry now has an even four Second Team selections to go along with his four First Team nods, while Donovan Mitchell and Jaylen Brown are the newbies of the group having made an All-NBA Team for the first time. LeBron James, obviously, is no newbie. He was selected as a Third Teamer on Wednesday, getting picked for a ridiculous 19th straight season overall.
Third Team
Guard               De'Aaron Fox                           Sacramento Kings
Guard              Damian Lillard                          Portland Trail Blazers
Forward           LeBron James                          Los Angeles Lakers
Forward           Julius Randle                           New York Knicks
Center             Domantas Sabonis                  Sacramento Kings
James, now 38 years old, has now been an All-NBA player for half of his life. Damian Lillard hasn't quite made it that far, but his seventh selection is the second-most among the Third Team picks on Wednesday. De'Aaron Fox and Domantas Sabonis were chosen for the first time, while Julius Randle made the team for the second time after doing so in 2021.
With All-Rookie and All-Defense also getting named this week and the individual trophies handed out earlier in the postseason, the league has now named all of its major regular season awards. Of course, there is still one major award left to be decided, and it's the biggest of them all. A bit more than one month from now, the Finals MVP will be selected, and there's a very strong chance that one of the players listed above guides his team to the championship and takes home that hardware.