WWE Superstar Rhea Ripley is adored by many fans online despite her villainous portrayal on-screen. The star recently put her playful side on display by commenting on one of Buddy Matthews' social media posts.
The two athletes went public with their relationship back in 2022, but taking a look at how frequently they post and how enamored of the couple fans are, it often seems like they've been dating for far longer. Despite the storylines either may be involved in, they're still very public with their affection for one another.
In a recent Instagram post, Matthews showed off his back workout routine and praised Rhea Ripley for inspiring him. In response, the WWE star joked that her boyfriend needs to keep up.
"Keep up beef cake," Ripley commented.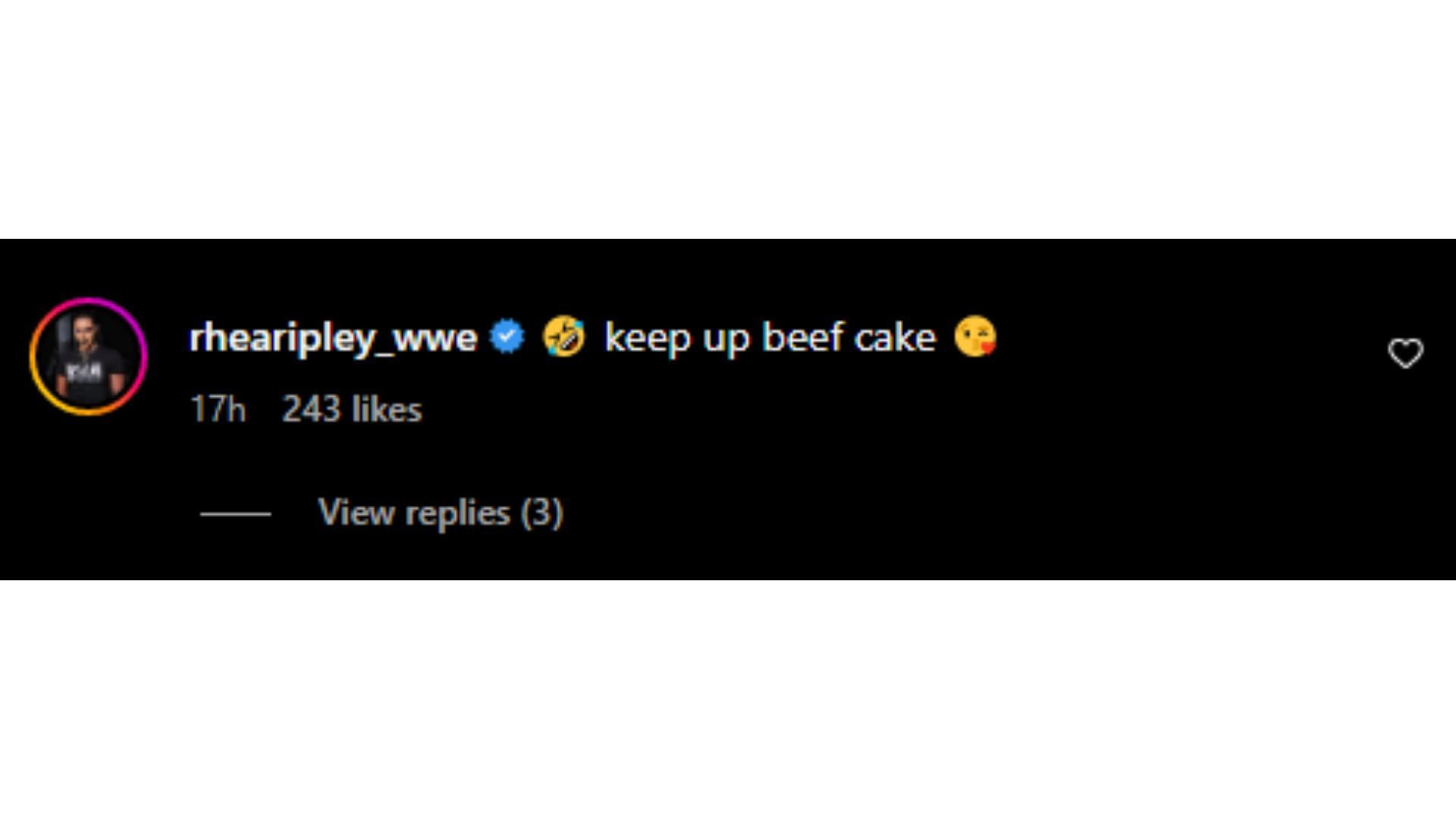 Check out a screenshot of Ripley's response.
During a recent interview, Ripley was asked if she could somehow lure Matthews back into WWE. That resulted in some more bantering from The Nightmare as she teased that she could potentially convince him.
The WWE star recently gave her take on AEW's leading women's faction, The Outcasts
The pairing of Toni Storm and Saraya came out of nowhere, but the two quickly proved to fans that they're a force to be reckoned with. Despite this, they've been heavily criticized online, even with the addition of Ruby Soho.
During an interview with Wrestling Inc., Rhea Ripley recalled her history with Toni Storm and praised the faction for what they've been up to in AEW.
"I love it. I think they're doing really, really well and it looks like they're having a lot of fun as well. Toni [Storm] and I, we go back since we were 16 years old in Australia. I'm glad that she is having fun and still wrestling, doing the one thing she loves and good for her. She knew exactly what she wanted and she went for it," Ripley said.
Many fans believe that The Outcasts' current storyline is booked as Former WWE stars vs. AEW Originals and, with Chris Jericho's inclusion in the feud, that might just be the case. Fans will simply have to stay tuned to see how it all plays out.