Ryan Garcia was already hurt before Gervonta Davis knocked him out in the seventh round of their recent fight. Bernard Hopkins, a partner at Golden Boy Promotions, thinks that Garcia was already hurt in the area where Davis delivered the punch that knocked him out.
Hopkins spoke about this on the DAZN Boxing Show: "I think he connected on a punch that he didn't see on the liver or rib side that was already injured and vulnerable. He was already vulnerable. Ryan never said anything. Athletes go through it all the time".
Hopkins suggests that Davis knew about this vulnerability and used it to his advantage, which completely changed the fight. "Ryan's fight plan went out the window when he didn't have answers for the pressure that was coming from Tank. And that's when Tank realized, because he saw something, felt something, or heard something.", he said.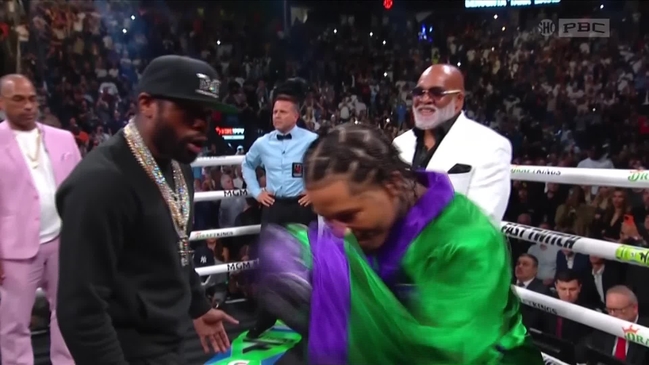 Gervonta Davis hands Ryan García first defeat in showdown of American unbeatables
Hopkins thinks that the punch to that already injured area paralyzed Garcia. "Ryan was paralyzed," Hopkins explained. "His mind wanted to get up (off the canvas), his ego wanted to get up. To people who say he could have gotten up, they've never been punched in the stomach, let alone in the liver or ribs".
After Devastating Knockout, Former Olympian Claims He Injured Ryan Garcia With Body Shot In Sparring Before Gervonta Davis Fight! https://t.co/lo9yqiCKOH pic.twitter.com/fsUQlStGqt

— WORLDSTARHIPHOP (@WORLDSTAR) April 24, 2023
A spy in Ryan's entourage?
But that's not all. It seems that one of Garcia's sparring partners may have inadvertently given information to Gervonta's team about his weakness. Erdenebat Tsendbaatar, who sparred with Garcia in preparation for the fight, posted a video after the fight in which he claims that he injured Garcia with the same body shot that Gervonta used to knock him out.
In previous press conferences and Twitter discussions, Gervonta had already publicly stated that he had heard that Garcia had been injured with a body shot. After the fight, when the Mongolian sparring partner confirmed this, it seemed clear that someone in Garcia's camp was passing information to Gervonta's team.
Ryan even confirmed this, saying in an Instagram story, "It's sad that I had a spy in my camp. It's crazy, but thank God it's out in the open. I don't want to use that as an excuse. I'm just surprised that someone close to me crossed me. Incredible, but it's a testament that you have to watch out for everyone."
Bernard Hopkins says Ryan Garcia was already injured to the body before fight https://t.co/JwFVZniG8e #Boxing pic.twitter.com/kTrDJlbZbt

— Boxing News 24 (@boxingnews24) April 27, 2023